New Presidency and themed guidelines for the CCNR, starting in 2014
13.01.2014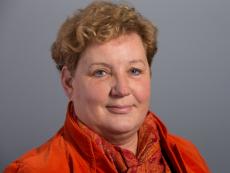 2014 marks the start of Netherlands' two-year presidency of the Central Commission, and 1 January saw Ms Brigit Gijsbers, Director of Maritime Affairs at the Dutch Ministry of Infrastructure and the Environment take up office as President.
The new presidency's guidelines were presented at the last plenary session, in December 2013; they are based on six topics.
Collaboration with the European Commission

Following significant progress made under the French Presidency, including the signature of an Administrative Arrangement on 22 May 2013, the Dutch Delegations intends to describe the objectives set out in the agreement in more detail. This should make it possible to complete the setting up of a balanced structure within which standards for inland navigation will be drawn up for the whole of Europe.

Modernisation of legislation on crews

Firstly, the provisions on the qualifications of inland navigation personnel will need to be modernised in order to ensure that the profession has the power to attract new personnel. It will also be necessary to bring the legislation on crew composition, navigation time and rest up to date and make it more flexible. The same applies to the tools necessary for its implementation.

Standardisation of technical requirements

In the context of collaboration between the CCNR and the European Union, a uniform technical standard should be defined on the basis of the Rhine Vessel Inspection Regulation (RVBR) and Annex II to Directive 2006/87/EC. This standard would then constitute the sole instrument on the basis of which vessels would henceforth be certified.

"Greening" inland navigation

Defining an overall framework for using LNG as a fuel for inland navigation vessels is one of the CCNR's priority concerns. Particular attention during the new presidency will also be paid to the use of other alternative fuels, including hydrogen gas.

Worsening of the crisis in inland navigation

The CCNR's increasingly thorough observation of the market for inland navigation will help avoid over-capacity in the future. The Netherlands also hope to reach a lasting solution to the associated problems before the interim deadlines given in the RVBR are reached.

Acceptance of CCNR Regulations

Lastly, the Dutch Delegation believes that the effectiveness of CCNR Regulations is largely a result of their being readily accepted by their target publics. It is therefore important to properly justify and document the introduction of any new regulations, and the form in which they are to be adopted.
These various topics will find their place in the work programmes assigned to the CCNR's various committees and in actions developed by its Secretariat.