CCNR Market Observation
26.09.2017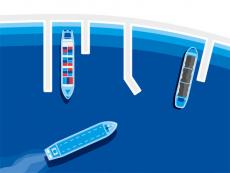 For the second year running, the Central Commission for the Navigation of the Rhine (CCNR) is publishing its annual Market Observation report on inland navigation in Europe, 2017, in cooperation with the European Commission. The outcome of close collaboration between the two institutions, the report provides an exhaustive overview of the market situation and of developments in European inland navigation during 2016. The forewords by Mrs Bulc, European Commissioner for Mobility and Transport, and Mr Georges, Secretary General of the CCNR, illustrate the publication's resolutely European dimension.
ANALYSIS OF EVOLUTION ON THE MOST IMPORTANT INTERNATIONAL WATERWAYS IN EUROPE
The analysis of the development of transport volumes on major European waterways and in the principal European inland ports is a central component of the annual report. Accordingly, in 2016, river transport represented goods transportation of almost 145 billion tonne kilometres, with an ongoing important concentration within the Rhineland countries. The publication takes a particularly close look at each transport segment, according particular importance to container transport, which increased by 4.6% throughout the European Union to reach 15 billion tonne kilometres. Passenger transport, in particular the river cruise segment, also continued its upward trajectory in 2016: the 335 cruise vessels plying the Rhine, Danube , Seine, Elbe, the Rhone and other European Union rivers carried a total of 1.36 million people.
ANALYSIS OF INFLUENCES BEYOND INLAND NAVIGATION
Beyond the observation of traffic, the report provides an analysis of the economic, environmental and social conditions that have affected inland navigation in Europe. The favourable economic context, with growth in industrial output and world trade, has had a positive effect on the transport sector and on inland navigation in particular. The poor harvests of summer 2016 in France and the low water conditions on the Rhine and on the Danube also influenced river transport, this time for the worse. The annual report also offers a macro economic analysis of the river market, studying inland navigation and its sustainable development in a wider multimodal transport environment.
EXAMPLE OF SUCCESSFUL EUROPEAN LEVEL COLLABORATION
The publication of the annual Market Observation report on inland navigation in Europe is an example of successful European level collaboration, embracing all European inland navigation actors and stakeholders, including the river commissions and representatives of the sector.