Recognition by the CCNR of non-Rhine professional qualifications for the schools in Děčín (CZ) and CERONAV (RO)
12.02.2016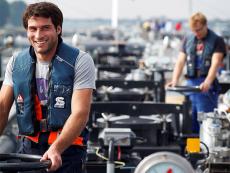 The Central Commission for the Navigation of the Rhine can recognise non-Rhine professional qualifications. Following the signing of two administrative arrangements with the authorities of the Czech Republic and of Romania, boatman qualifications obtained through professional training at the schools in Děčín (Czech Republic) and CERONAV (Romania) has been recognised since 1st December 2015, subject to certain conditions.
In order to be able to navigate the Rhine, the boatmen graduating from these schools, the diplomas of which are now recognised, must first contact the competent authorities in their respective countries. Indeed, it is a matter for these national authorities to state in the service record book recognised by the CCNR that the qualification "is recognised in accordance with article 3.02(3)(a) of the RPN".
In the event of inspection, the entries in the service record book shall be authentic.