Austrian logbooks recognised on the Rhine with effect from 1 July 2016
05.11.2015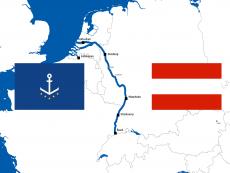 Recognition on the Rhine of logbooks that comply with the CCNR model but which are issued by non-Member States has been possible since the adoption of resolution 2015-I-11 of 3 June conditional on this procedure being on a reciprocal basis.
Austria is the first non-Member State of the CCNR to enjoy such recognition. At its request, this recognition was authorised by the CCNR and will come into effect from 1 July 2016. Austria is thereby paving the way for other non-Member States of the CCNR interested in this procedure.
Keeping a logbook is an essential contribution to inland navigation safety. In particular it makes it possible to verify crew member sailing and rest times and the presence on-board of the necessary crew functions.