Establishment of the legal conditions tor using liquefied natural gas (LNG) for navigation on the Rhine and inland waterways
11.06.2015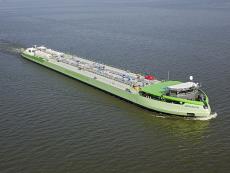 Like other transport sectors, particularly road transport, inland navigation is looking to alternative fuels. Of the available alternatives, liquefied natural gas (LNG - natural gas liquefied at a temperature of 161° C) is the most suitable for inland navigation, because it is less of a hazard than, for example, hydrogen, and because it offers higher energy density than compressed natural gas (CNG).
After an analysis of what has been learned from operating inland navigation vessels already testing the use of LNG, the CCNR adopted supplements to its regulations for Rhine navigation in order to create a legal framework which would allow the regular use of LNG as a fuel for inland navigation in Europe.
The regulatory framework also makes demands of the skippers and crew members of vessels fuelled by LNG: they must undergo additional training, approved by the competent authorities, and pass an examination.
Thus once again the CCNR is fulfilling its mission to promote by its actions and its regulations both safety and innovation in inland navigation on the Rhine and throughout Europe.
Picture copyrights : Greenrhine