Investigation into the accident involving TMS Waldhof – final report
17.04.2013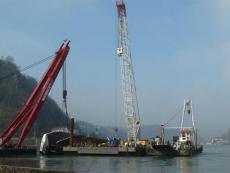 In order to make the information available to the international specialist community, the CCNR Secretariat has had a translation made of the final report (summary) by the enquiry commission of the Waterways and Shipping Directorate Southwest (Wasser- und Schifffahrtsdirektion Südwest - WSD Südwest) on its investigation into the accident involving TMS Waldhof which occurred on 13 January 2011 on the central section of the Rhine.
The TMS Waldhof, carrying about 2 400 tonnes of sulphuric acid, capsized on 13 January 2011 near St Goar as it travelled downstream. On 31 January 2011, the German Federal Ministry of Transport, Building and Urban Development (BMVBS) commissioned WSD Südwest to carry out an independent investigation in parallel with the official investigation into the accident, in accordance with the provisions of the legislation on investigations into seaworthiness.
The sole purpose of the investigation was to determine the circumstances of the accident, the direct and indirect causes of the accident, and any weak areas in the safety systems. The WSD Südwest enquiry commission submitted its final report to the BMVBS on 8 January 2013. Because of the tremendous amount of general public interest in the accident, WSD Südwest has made the report (various versions), including annexes, available for downloading by the general public on the Internet site at www.elwis.de .